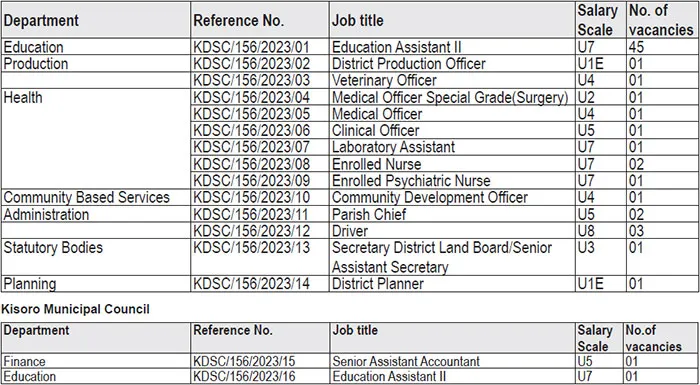 Applications are invited from suitably qualified Ugandans to fill the under listed vacant posts which exist in Kisoro District Local Government and Kisoro Municipal Council.
Application forms on Public Service Form No. 3(Revised 2008)for other positions and ESC Form No.3(1998) for Teaching positions, in triplicate should be submitted to the Secretary, Kisoro District Service Commission P.O Box 123, Kisoro to be received not later than 13th April 2023.
The application forms are obtainable from the Public Service Commission Offices, 2nd Floor, Education Service Commission offices 1st Floor, Farmers' House, Parliamentary Avenue, Kampala and also from District Service Commission Offices country wide. Handwritten applications are also acceptable.
Applications should bear the title of the post and reference number specified against each vacancy. Applicants should attach certified photocopies of academic documents, transcripts, certificates, pass slips and other relevant documents plus 3 recent passport size photographs. Applicants who shall not hear from us on completion of selection process should consider themselves unsuccessful.
Job Descriptions and Person Specifications can be accessed on the Ministry of Public Service Website: www.publicservice.go.ug and District Service Commission offices
More Information
Salary Offer

300000 - 5000000

USD

300000 - 5000000

Month

Address

Kisoro, Kisoro, Uganda