Applications are invited from suitably qualified Ugandans to fill the job vacancies that exist in Kikuube District Local Government. Applications should be submitted to the Secretary, District Service Commission, Kikuube in triplicates on Public Service Commission Form 3 (Revised 2008) for non-teaching posts and Education Service Commission Form 3 (Revised 1998) for teaching posts not later than 30th January 2023. Application Forms can be obtained from Public Service Commission and District Service Commission offices country wide or downloaded from the following websites: www.psc.go.ug and www.publicservice.go.ug. Applications should bear the job title and reference number as specified against the vacancy, with clear written telephone contacts, email and postal addresses. Applicants MUST attach on each application form certified photocopies of academic certificates, transcripts and pass slips as well as photocopies of National Identity Cards and School/ Institutional identity cards for all levels, and clear current coloured passport photographs taken at the same time. Serving officers MUST route their applications through the Responsible Officer who should be informed of the closing date to avoid delays.
Qualified women and persons with disabilities are equally encouraged to apply.
Detailed job descriptions and person specifications for the advertised job positions can be downloaded from the Ministry of Public Service website www.publicservice.go.ug.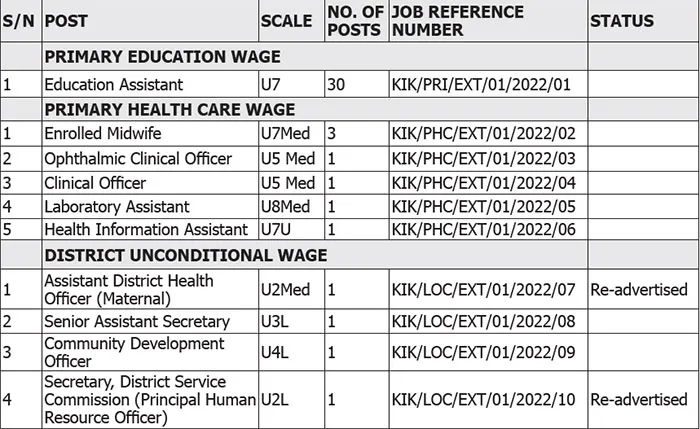 More Information
Salary Offer

0 ~ Ush50000000

USD

0-ush50000000

Month

Address

Kikuube, Kikuube, Uganda